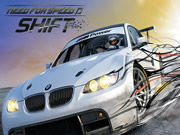 Need for Speed Shift
Returning to the simulation roots, SHIFT marked the first Need for Speed game not made by Black Box since Porsche Unleashed, with UK-based Slightly Mad Studios taking the wheel.
It featured nearly 70 cars and was critically-acclaimed, receiving the Editors' Choice Award from IGN. Roaring engines, squealing tires, crunching collisions. And above all ... speed, speed, and more speed! Nothing was overlooked to deliver the most realistic racing experience possible.
Shift into high gear! Designed to deliver a true driver's experience that reflects contemporary motorsports, Need for Speed Shift is built by racers for racers. Need for Speed Shift delivers an authentic and immersive driving experience, replicating the true feeling of racing high-end performance cars like never before. Players are thrust into the heart of the action with immersive and exciting features including a stunningly realistic first-person cockpit view camera and an all-new crash mechanic, providing an unrivaled sensation of the speed and feeling of racing a car on the extreme edge of control.
License: Demo
Language: English
OS: Windows XP