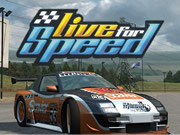 Live for Speed
Live for Speed is a racing simulator developed by a three person team comprising Scawen Roberts, Eric Bailey, and Victor van Vlaardingen.
Live for Speed is a racing game for people who like things to be difficult. There are no driving aids and no arcade modes to satisfy the casual user! The game is pretty slick. The tutorial will take some time, and is not easy, and that's before you get to the racing. You steer with the mouse, and things like gears are on the keyboard.
Mouse steering is never ideal, but the developers say if you're serious enough about driving, you'll own a steering wheel! That is not ideal for most users, so you'll have to make do with the mouse. The graphics are pretty good, with nice vehicle models, realistic sound and good handling. What's annoying about racing is that the computer AI is too rigid. Other cars stick like glue to the racing line, and if you're out of position they won't avoid you, but push you, which often results in a spin.
This demo features 3 cars and one track, and the difficulty level means that's plenty to start off with. There has certainly been a lot of care put into Live for Speed, but unless you're a race perfectionist, you'll struggle to get to grips with it. Live for Speed is a good looking simulator that doesn't pull its punches when it comes to being realistic.
License: Demo
Language: English
OS: Windows XP